Monday, November 19, 2007
Posted by

Indulge in Fashion
at 2:32 AM
No comments:


Sunday, November 11, 2007
now at fashionwirepress.com
MAXAZRIA
Posted by

Indulge in Fashion
at 4:41 PM
No comments:


Saturday, November 10, 2007
NEW YORK, September 9, 2007 – "We were looking at some fabulous advertising from the late seventies and early eighties for Virginia Slims and Charlie," said Michael Kors before his show. "There was something about those women; they were very sexy, but sporty at the same time." Kind of like the Kors woman. Come springtime, she'll need clothes for tennis at the club, lunch and a meeting in the city, cocktails, cruises, and galas, too. And today, on his runway, Kors had plenty of suggestions: He started with Lilly Pulitzer pastels, in stripes or Impressionist florals for the court and the beach, and tossed in a few of his beloved caftans before the show was over, this season in an oversize black-on-white flower print designed to complement white maillots with gold-chain straps. For the office, there were chic navy suitings and this season's must-have safari jacket paired with wide-leg trousers. After dark, his girls will have a few options: gold sequins, drapey black jersey, or fruity chiffons—as in guava, apricot, and apple.With Olivia Newton-John's Xanadu on the speakers, the show could have become kitsch, but Kors leavened the frivolity with a healthy respect for classic cuts and silhouettes—and don't forget paper-thin cashmere, the building block of a smart spring wardrobe. In the battle between opulence and simplicity, Kors—when he's on solid form like this—wins
N.Phelps
photos at
http://www.fashionwirepress.com/kors
Posted by

Indulge in Fashion
at 2:16 PM
No comments:


NEW YORK, September 11, 2007 – "Days of Heaven, the Shakers, and the wheat fields of the Great Plains" seem unlikely inspirations for a designer as urban as born-and-bred New Yorker Zac Posen. But there they were, staring up from the front page of his program notes. So it was with an elevated level of curiosity that his audience members—at least the ones there to conduct business; Posen has many boldface pals—awaited the beginning of his show.First up was a long black vest with pants and a white shirt, accessorized with a wide-brimmed straw hat perched atop the model's head; it was followed by a halter dress with diagonal tiers of pleats and ruffles. Not such foreign territory for Posen, whose twin talents for tailoring and dramatic eveningwear are well documented in the celebrity weeklies. What was new was the big-sky romance of a white prairie dress rethought as a fitted gown; it had a softness that Posen's more overtly sexy work lacks.By the end, though, he had strayed into dangerous pastures. He closed the show with five dresses—four of them long or extra-long; one strapless, short, and bubble-hemmed—that were as poufy as storm-whipped clouds. These were more than a little showy, a country no-no. The Shakers, after all, didn't believe in elaborate details or added decoration. Six-foot trains are one thing, but those staffs of wheat rendered in rhinestones were an inexcusably literal interpretation of the designer's chosen theme.
photo's can be found at
http://www.fashionwirepress.com/zacPosen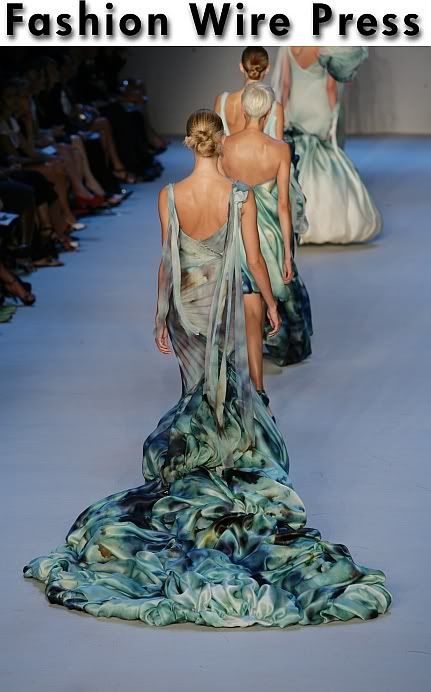 Posted by

Indulge in Fashion
at 2:14 PM
No comments: